We are a boutique consultancy specializing 1) helping regions attract investment to create jobs and grow their economy and 2) assisting companies to expand into new regions to grow their business.
Our intimate understanding of the needs of both Regions (IPAs, EDOs and Governments) and Expanding Companies awards us unique insight and puts us in an ideal position to provide the most practical and customized solutions for our clients.
Our vision is to be your long-term trusted partners and strategic advisors.
Our core services include:
Strategies (Investment Attraction, FDI, BR&E and Economic Development Strategy; Regional Benchmarking and Target Market Identification, Talent Attraction Strategy, Marketing & Promotions Strategy)
Studies (Market Study, Sector Study, Benchmarking, Supply Chain Analysis, Incentives Study)
Training (Investment Attraction Strategy, Lead Generation, Value Propositions, Destination Marketing etc.)
In-Market Representation
Value Proposition Development
Attract Investment Consulting was established in 2020 and is headquartered in Toronto, Ontario, Canada.
We connected to a network of seasoned economic development and site selection industry leaders whom have worked regions (IPAs, EDOs, Governments) as well as investors/expanding companies throughout North America, Europe, Asia, Latin America and the Caribbean.
In addition to this, Attract Investment Consulting has strategic partners in various geographies, providing it with the ability to increase its capacity as needed on a global scale, and tap into local knowledge/expertise and sector networks in key markets.
Founder & Managing Director Bio
Scott Bryan is the Founder & Managing Director of Attract Investment Consulting specializing in investment attraction strategies, market and sector studies, benchmarking/competitive analysis and value proposition development. With 20 years of experience, Scott is an innovative and expert strategist specializing in:
High impact investment attraction, FDI, BR&E and Economic Development strategies.
Market identification and expansion strategies for SMEs (small to medium sized enterprises) looking to expand into/within North America to grow their business, having worked with 100+ companies.
Honing his skill through his work with over 200 EDOs/IPAs and Governments as well as supporting over 1000+ companies with their expansion into new regions.
Significant business development, marketing and consulting experience with EDOs/IPAs, Governments, SMEs and Fortune 500 companies. Some of Scott's private sector experience includes his role as the Vice President of Consulting & Marketing at a talent management consulting firm. Prior to that, he led the National Public Sector Marketing practice at KPMG to support the generation of $400 million in revenue within 3 years.
Scott had provided strategies, project management and/or oversight for numerous investment attraction and lead generation contracts that successfully assisted regions/communities to draw or generate investment, create jobs and bolster their economies. He has delivered customized training workshops globally on investment attraction, business retention & expansion, location marketing, lead generation, investor facilitation, aftercare, value proposition development etc.
He has provided in-market North America representation for the World Bank & FIPA Tunisia, Japan (JETRO), Dubai (DAFZA), World Bank and Indonesia (BKPM and other regional authorities) as well the States of Florida, Oregon, and Rhode Island, and the County of Simcoe, delivering best-in-class promotion and investment attraction services.  In this capacity, he has worked with over 1000+ companies, understanding their needs as well as their blind spots in the expansion journey.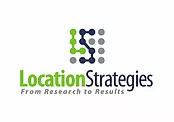 Established by Gillian Hatton in 2004, Location Strategies is a boutique economic development consultancy providing location analysis, economic and sector research, strategy development, trade development, and investment attraction services to facilitate job creation, investment, and sustainable economies. Our specialisms include location analysis, economic and sector research, strategy development, trade development, and investment attraction services to facilitate job creation, investment, and resilient economies. We help communities leverage their strengths while being firmly grounded in the importance of new and emerging technologies and cutting-edge trends in the creation of sustainable economies with high value jobs, economic prosperity, and competitive advantage.